We have all experienced the stress and sleepless nights involved in moving house. Whether it's an interstate move or a local move, the stress is always the same leading up to the big day.
Common stressful questions (that need answers) associated with moving house include:
What removal company should I use?
What date do I plan the move for?
When do I start packing?
Do I need insurance?
What do I do with my pets?
Can someone babysit the kids?
Who can help on the day?
What do I pack first and last?
Can I afford this move?
When do I cut off and set up water and power?
How can I save money?
What am I forgetting?
An easy way to avoid stress is to plan out these questions and others you may have well in advance. Give yourself plenty of time to prepare and try to stay calm. Remember, after the move is complete you will feel the warmth and joy of a brand new home to create beautiful new memories in.
According to recent research into stressful life experiences, almost 1 in 4 people rate moving house as the most stressful event. Other highly rated stressful events recorded in the research included having a baby, starting a new job, getting married and meeting the in-laws.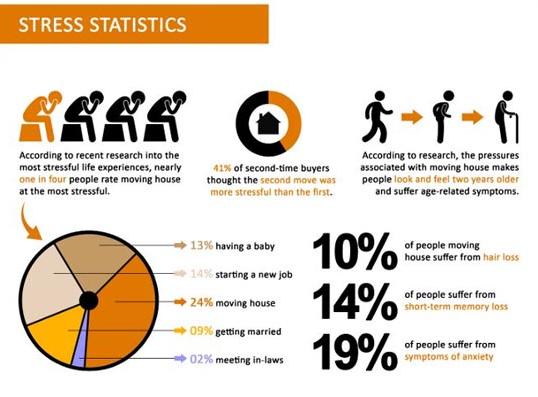 Amazingly 41% of second-time home buyers believed the second move was even more stressful than the first. The pressures associated with moving house also tend to make people feel two years older and suffer from age-related symptoms.
Hair loss is a common symptom associated with stress and incredibly 10% of movers actually suffer from it. A further 14% suffer from short-term memory loss while 19% suffer from symptoms of anxiety.
CK Interstate Furniture Removals aim to make your moving process as easy and stress free as possible. Our friendly and professional team are always organised, on time and know exactly how to assist you. If you are moving soon we can provide you with a free removalist quote and free insurance quote if required.